Потужний землетрус маґнітудою у 8,2 бала на південному заході Індонезії, влада каже про ризик цунамі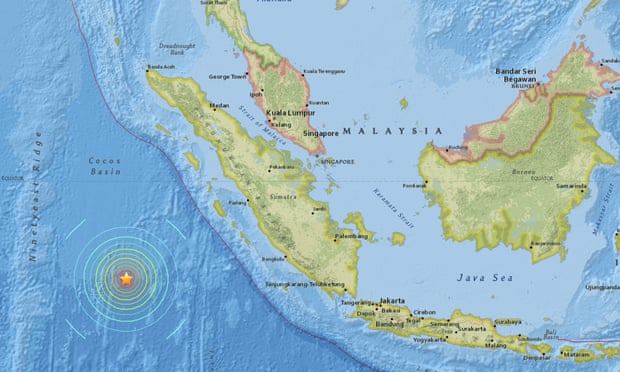 A powerful earthquake of magnitude 7.8 has struck off the west coast of the Indonesian island of Sumatra, the US Geological Survey (USGS) has said.
A tsunami warning was issued on Wednesday for parts of Indonesia, including West Sumatra, North Sumatra and Aceh, and for Christmas Island and Cocos Island. The Australian bureau of meteorology also issued a watch alert for the country's west coast, but withdrew it shortly afterwards.
The epicentre was 502 miles (808km) south-west of Padang, USGS said. It was 15 miles deep.
The quake was felt strongly in Padang in West Sumatra for a few seconds, a Agence France-Presse journalist in the city said. People ran out of their homes to get to higher ground.
However, USGS said there was a "low likelihood of casualties and damage". "There are likely to be no affected structures in this region," the organisation added on its website.
The shallower a quake, the more likely it is to cause damage. USGS originally put the magnitude at 8.2, and then 8.1, before lowering it to 7.9 and then 7.8. They initially said the quake was six miles deep, but later corrected it to 15 miles.
Indonesia, badly affected by the Indian Ocean tsunami in 2004, straddles the so-called Pacific Ring of Fire, a highly seismically active zone where different plates on the earth's crust meet and create a large number of earthquakes and volcanoes.
http://www.theguardian.com/world/2016/mar/02/major-79-magnitude-earthquake-reported-near-indonesia


Пост спочатку надрукований тут: http://don-katalan.dreamwidth.org/1356610.html.